Dating Tips for Teens Who Want to Enjoy Dating

If you're online looking for dating tips for teens, chances are you want to enjoy the fun side of dating.
Unfortunately, there are some bad and even dangerous things that can happen when dating.
Chances are the tips you find first are about avoiding date violence or something else scary. You can relax now, though, because these are happy dating tips.
Do you have a great dating tip to share? You can share it here!
Looks Are Just Part of It
When choosing someone to ask out on a date, think about that person's character as well as their looks.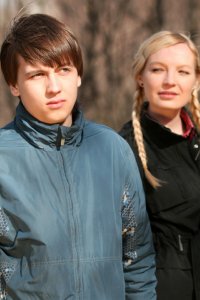 Have Something in Common
In fact, if you look for people who share your interests, such as sports, history club or band, you can be sure of having something in common right from the start.
This will give you a starting place for conversation when that dreaded embarrassing silence takes place.
Take Your Time and Don't be Shy
Here's one for the girls. Be a little slow about pursuing that great guy. Yes, girls and boys are equals to a certain extent, but for some reason guys are just wired to do the pursuing.
Be friendly. Smile a lot because everyone is more attractive when they smile. Be interesting too. One of the best dating tips for teens you'll ever get is to be the kind of person you want to date.
Shyness is a real problem for both boys and girls. If you're shy, go to some group activities. Learn to give a friendly smile even if you are afraid to strike up a conversation. It will happen before you know it.
Everyone, especially teens, dream of meeting that special someone.
Marriage is very difficult once you're in it, even if you are perfectly matched.
The best way to view teen dating is to see it as a chance to learn to communicate like an adult.
There's more great info on teenage relationships, teen dating advice and more great teen dating tips that's soon to come.
What Dating Tips Have You Picked up Along the Way?
Do you have a great dating tip, if so, how did it work for you? Do tell. What has been best date you've been on? Where did you go? What did you do?

Do you have a juicy photo to share on this great date, if so, share it! And please describe what the heck is going on in it. ;) You just may pick up some great tips here yourself.
What Other Visitors Have Said
Click below to see contributions from other visitors to this page...

Related Articles
Go from Dating Tips for Teens back to the home page.