Get the Guy You Want with this Dating Advice for Women.

Find that guy with dating advice for women. The kind of dating advice women need can vary widely with the woman!
For instance, if you are naturally attractive and work hard at fitness, the advice you need may be how to get rid of the undesirables and figure out which guys are worth your time.
If you are this type of woman, one piece of dating advice for women is, to remember to stay humble, because beauty is skin deep.
Just because you have the look does not make you complete like a box of Aunt Jemima Pancakes.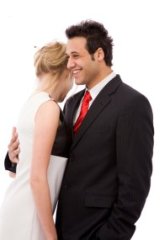 If you're having a blond moment, that means just because you have the look does not mean that you're a complete package.
On the other hand, if you are more average in appearance, you may desire dating advice that will increase your chances of getting dates in the first place.
Remember first and foremost that your value as a woman is not determined by the number of guys who are trying to get next to you!
Be the kind of partner you'd like to find and someday, somehow, that magic moment is likely to happen when you least expect it.
Always Work On Improving Yourself
But to encourage it along, try these things. Take care of yourself, exercise, dress to suit your personality and figure, and smile! And of course work on that prude personality of yours.
Have fun with life and work. As you do these things, remember to also go places where the kind of guy you're looking for is likely to be.
Meet People At Various Places Of Interest
Don't assume bars first because the chances are greater that you'll pick up the kind of guy you don't want! Go to public events, continuing education classes and religious activities that you are interested in.
The more you meet people, the more you increase your chance of meeting *him*! Once that great guy catches your eye, it is not inappropriate to invite him to an outing, especially for a casual get-together with friends.
Don't do like one woman who invited over three guys she was interested in at one time and no one else! (Incredible, but true!)
Invite some other single friends. It will give the two of you a chance to get acquainted, and if the zing is there, you'll both know it!
Related Articles
Go from Dating Advice for Women back to the home page.