Watch Out for These Relationship Red Flags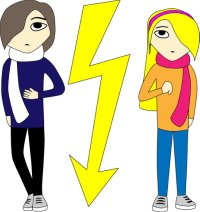 Often there are relationship red flags that you may ignore that could have let you know there was a problem in the future.
Sometimes relationships end or go bad and there doesn't seem to be a reason.
Here is a look at some of the more common red flags you shouldn't blow off. If you see them, it may be time for you to take heed.
Red Flag #1 - They are Always Evasive About Personal Questions
One red flag that's important to some people is when the person you are seeing is always evasive about personal questions.
When you ask about their family, their background, and even their career, they never really answer. They may become defensive, a bit short with you, or they may even change the subject when this comes up.
For some people this information is important for them to know. For me it's not. Sometimes these questions aren't easy for everyone to answer. Everyone is different. Maybe that person needs a little time to open up, and this depends on how long you've know each other.
Red Flag #2 - Saying One Thing Then Doing Another
One of my biggest pet peeves is saying you're going to do something and then don't. For example, when someone says they're going to call at a certain time and then don't, that can be a
"BIIIIIG"
red flag that goes in your folder. Now I'm starting to question things.
Red Flag #3 - You Can't Reach Them a Lot of the Time
If you can't reach the person you're dating a lot of the time, this is another of the relationship red flags that may mean it's time to take some action.
If you are constantly leaving messages and they aren't available for hours or even days at a time, this should definitely be sending off warning lights in your mind.
There's a good chance this person already is involved in a relationship or they're just not all that interested in you.
Red Flag #4 - You Never Get to Meet Their Friends
Have you been together for some time but you never get to meet their friends? Maybe they are always making excuses as to why you can't meet their friends.
They could be hiding something from you if they never want you to meet their friends. This is another red flags that's important to some. But then again some people don't have many friends to begin with.
These are just a few of the relationship red flags that you should be very wary of. Then again, it all depends on what's important to you. I'm sure I've stated somewhere before that people are different.
What are your BIGGEST Red Flags?
Do you have a relationship red flag? How many do you have? What are they? And when did the red flags appear, at the beginning, in the middle or at the end of the relationship? What happened and how did you handle it?

Your opinion matters so here is your chance to share it! Send in a photo or something and explain what the heck's happening in the photo. ;)
What Other Visitors Have Said
Click below to see contributions from other visitors to this page...

Return from Relationship Red Flags back to the Relationship Tips page