Online Relationship Counseling can Help Get it Back on track
If your relationship is struggling, then you may want to consider taking online relationship counseling together as a way to improve your relationship.
Relationship counseling can be a very effective way to get your relationship back to what it used to be if you are suffering problems. You and your partner can go to a counselor and talk over your problems.
However, there is another form of relationship counseling couples may want to give some thought to and this is online relationship counseling, but can it work as effectivley?
Providing you choose the right counselor, you may get exactly the same results as you would if you were sitting in the office of a counselor.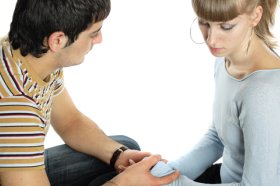 In some cases, you may feel more relaxed by using the internet and your home computer to seek counseling, as of course you will be in your own home or whatever locations is convenient for you.
Usually relationship counseling online works in exactly the same way as traditional counseling.
You will sit in front of your computer screen with your partner at the appointed time and talk via an instant messenger service in real time.
Depending on your choice of counselor, you may also be offered the option of being able to chat via a web cam and microphone in real time also.
Of course, you would have to discuss what communication options are open to you when you are searching for your counselor.
You may even just want to talk over the phone. I myself like the phone or voice activated webcam. You can hear the person and get a better feel of what a person is saying and what they mean.
One thing to remember about via chatting without a voice is that it can leave many misunderstandings.
Return from Online Relationship Counseling
back to the Relationship Help page.