Find that Special Someone with this Online Dating Advice
Here's a little online dating advice in the form of some do's and don'ts.
Are you considering an internet dating service as a way to finally meet someone special?
Do check out the message boards on your favorite websites.
If you are part of a group that focuses on a special interest, such as Civil War reenactments or motorcycles, then be friendly on the forums.
Often someone with just the same passion will be posting as well, and you can truly become friends first before anyone considers romance. Do post a picture of yourself when you join an online dating site.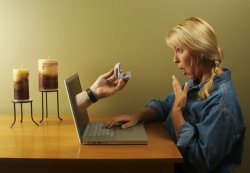 Post a Photo That is Really You
Studies have found that a photo will greatly increase your chances of being contacted. Don't worry too much about how you look in the photo.
You want someone to like you for being yourself. Do choose a photo in which you look friendly, though!
If your favorite photo of yourself is part of a group shot, then use your photo editing software to cut out the rest of the photo.
You want your future sweetheart to see how cute you really are, not a picture of a bunch of people or things.
Be Honest and Don't Give Out to Much Information
The best online dating advice is to be honest above all. However, remember that there are a few topics that should be avoided until you are very sure you are interacting with someone you can trust.
One of these topics is money (or the lack thereof.) Don't give too many details about your finances. Do talk about your dreams, values, beliefs, and interests.
Don't fake an interest in something just because the other person loves it, but look for genuine common ground.


Return from Online Dating Advice back to the Online Relationships page.