Use New Relationship Quotes to Get that New Romance Started Right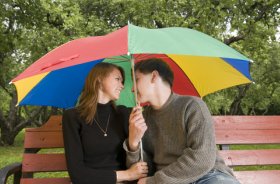 When you've just met someone special, new relationship quotes can help you get off to a great start.
You can find thought provoking quotes on many romance advice websites, as well as in self-help books on relationships.
The best quotes are short but deep statements about the nature of budding young love.
These quotes capture the heart and imagination as well asteaching basic principles of good dating practices.
Some great quotes about new relationships are in ancient literature.
After all, romance and love have been an important topic on everyone's minds since the dawn of time.
Not only that, there have been lovely incidents of love at first sight throughout history. Take for instance the story of Jacob and Rachel in the Bible. When Jacob first saw the lovely Rachel coming to water her father's sheep, the book of Genesis tells it like this.
"And Jacob kissed Rachel and lifted up his voice and wept." About a month later, Jacob made a deal with Rachel's father to work seven years for him, and then he could marry Rachel.
A memorable quote about Jacob's feelings is "And Jacob served seven years for Rachel, and they seemed unto him but a few days, for the love he had to her."
The works of Shakespeare contain some great relationship quotes that can offer good advice and inspiration for new romances, as do the witty remarks of Ben Franklin in his Poor Richards Almanac.
For example, "Absence sharpens love, presence strengthens it." Here's another Franklin quote helpful when desiring a new love: "If you would be loved, love, and be lovable."
Good luck as you read and learn about romance with new relationship quotes!
Return from New Relationship Quotes back to the Relationship Articles page.